This section describes how to launch and connect to Bitcoin Fullnode kit in a Google Compute environment using the available Cloud Launcher offering.
In your browser, log in to the Google Compute Engine Console at https://console.cloud.google.com/.
In the left navigation panel, select Cloud Launcher. If it is not visible in the left panel, search for Cloud Launcher in the search box.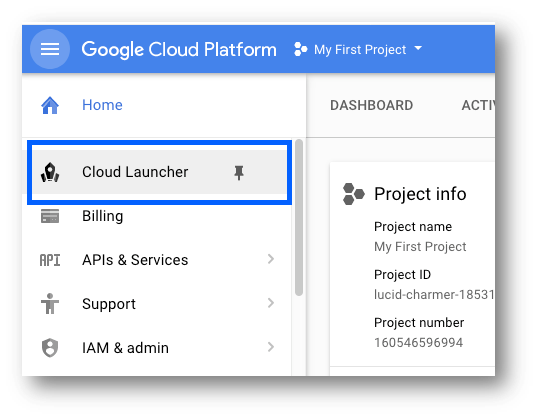 On the Cloud Launcher page, search for Bitcoin Full Node (Techlatest.net) and select the Bitcoin Full Node (Techlatest.net) offering. The following page will display.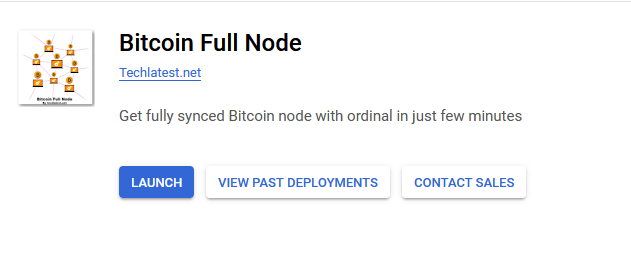 Click Launch on Compute Engine.
Select a zone where you want to launch the VM(such as us-east1-)
Optionally change the number of cores and amount of memory. (This defaults to 2 vCPUs and 7.5 GB ram.)
Optionally change the boot disk type and size. Boot disk size should be greater than or equal to 400 GB. (This defaults to "Standard Persistent Disk" and 400 GB respectively)
Optionally change the network name and subnetwork names. Be sure that whichever network you specify has ports 22 (for ssh) and 3389 (for RDP) exposed.
Click Deploy when you are done. Bitcoin Full Node Suit will begin deploying.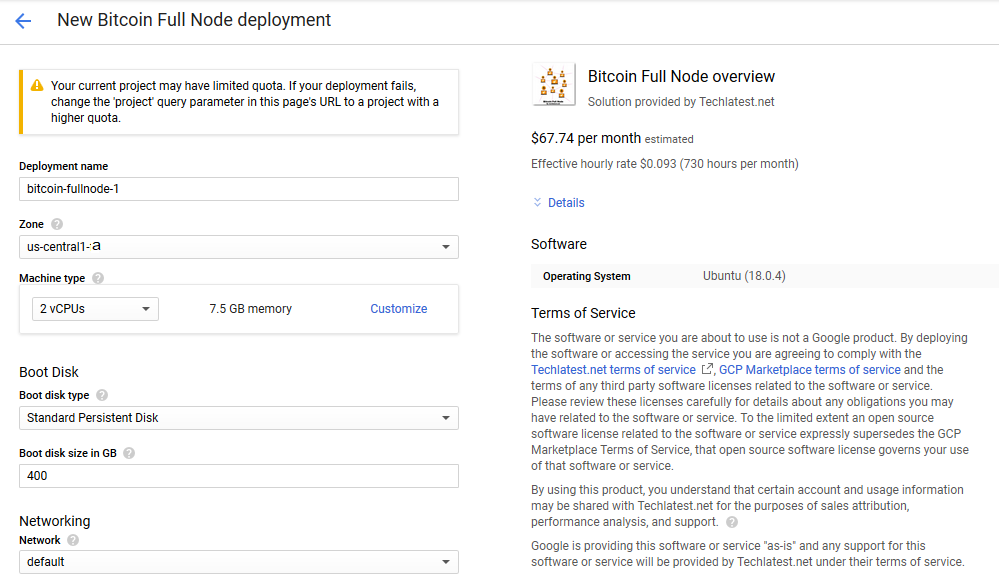 A summary page displays when the compute engine is successfully deployed. Click on the Instance link to to go to the instance page .
On the instance page, click on the "SSH" button, select "Open in browser window".




This will open SSH window in a browser.
Run below command to set the password for "ubuntu" user




Now the password for ubuntu user is set, you can connect to the VM's desktop environment from any local windows machine using RDP protocol.


To connect using RDP, first note the external IP of the VM from VM details page as highlighted below




Then From you local windows machine, goto "start" menu , in the search box type and select "Remote desktop connection"


In the "Remote Desktop connection" wizard, copy the external ip and click connect




This will connect you to the VM's desktop environment. Provide "ubuntu" as the userid and the password set in step 8 to authenticate. Click OK




Now you are connected to the out of box Bitcoin Full Node environment.




To know how to use the Bitcoin Full Node kit, please refer to the video tutorial series available on Bitcoin Full Node Support.