This section describes how to launch and connect to Ansible AWX Kit in a Google Compute environment using the available Cloud Launcher offering.
Open Ansible AWX (Opensource Ansible Tower alternative) listing on GCP marketplace
Click Launch.

Select a zone where you want to launch the VM(such as us-east1-)
Optionally change the number of cores and amount of memory. (This defaults to 1 vCPUs and 3.5 GB ram.)
Optionally change the boot disk type and size. (This defaults to "Standard Persistent Disk" and 20 GB respectively)
Optionally change the network name and subnetwork names. Be sure that whichever network you specify has ports 22 (for ssh), 3389 (for RDP) and 80 (for HTTP) exposed.
Click Deploy when you are done. Ansible AWX (Opensource Ansible Tower alternative) will begin deploying.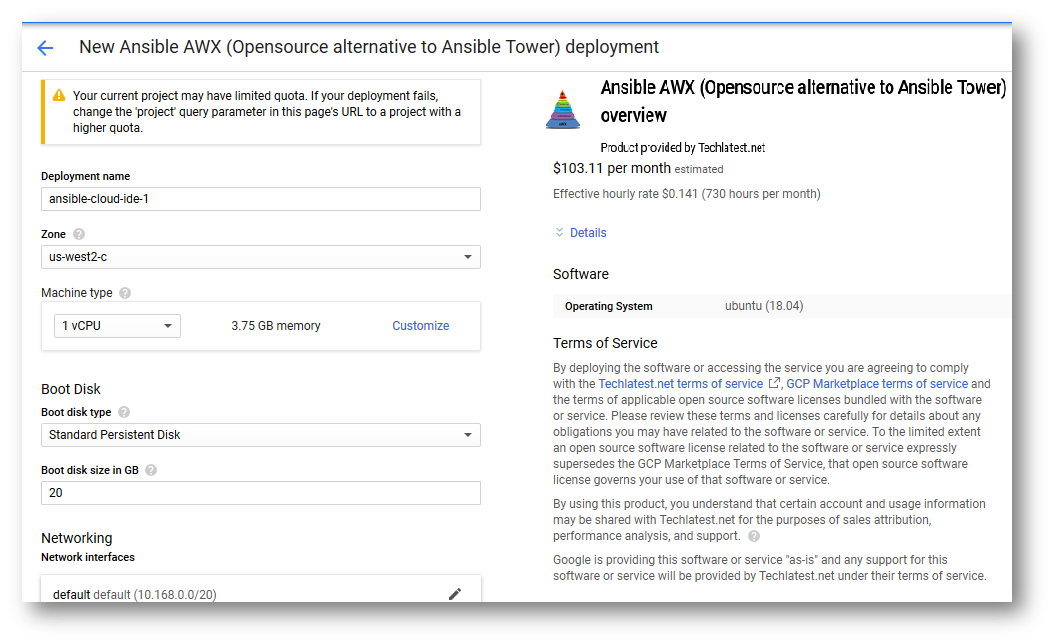 A summary page displays when the compute engine is successfully deployed. Click on the Instance link to to go to the instance page .


On the instance page, click on the "SSH" button, select "Open in browser window".




This will open SSH window in a browser.
Run below command to set the password for "ubuntu" user




Now the password for ubuntu user is set, you can connect to the VM's desktop environment from any local windows machine using RDP protocol.


To connect using RDP, first note the external IP of the VM from VM details page as highlighted below




Then From you local windows machine, goto "start" menu , in the search box type and select "Remote desktop connection"


In the "Remote Desktop connection" wizard, copy the external ip and click connect




This will connect you to the VM's desktop environment. Provide "ubuntu" as the userid and the password set in step 6 to authenticate. Click OK




Now you are connected to the out of box your own ansible tower environment.




For connecting via Web Interface, SSH to the VM as shown in Step 4 and run below command-

cat /home/ubuntu/ansible_awx_password.txt.

Note down username and auto-generated password.

Note: If the password is empty in the file, wait for 2 minutes and check again.





Login to the web interface by opening the url

http://your-external-ip

in your browser
Use above default username & auto-generated password



You must change the default id and password as security measures by going to admin profile page and entering new userid and password
To change the userid and password,In left pane click on Users as shown below.



Click on admin user and enter the new values here and save the changes.